L ooking for a castle near Cologne you can visit as part of a day trip or a hike? Then good news: you're in luck! There are plenty of castles that are easy to reach from Cologne – whether that's in the Rheinland, the neighboroughing region of Bergisches Land or even along the picturesque Mosel valley.
It's no exaggeration to say that in Germany, there's basically a castle around every corner.
This list is by no means exhaustive. Instead, I've tired to focus on the best that this corner of Germany has to offer – especially those that can be reached on a day trip from Cologne, either by car or by public transport. And of course, almost all the castles listed below can be visited on a rewarding hike.
'Castle' meaning in Germany
There's something that feels very quintessentially German about castles; or at least, when you think of Germany, beautiful and foreboding fortresses are often something that come to mind.
But in Germany, a castle isn't always a castle. Or to put it another way: German and English often differ on what is a castle and what isn't. This means things can often get lost in translation. I will try to explain it here, but bear in mind: I am no expert and could very easily be wrong.
German has three different words that we might translate into English as 'castle': Burg, Festung and Schloss.
The word most people are probably most familiar with is Schloss, which is often used for castles built for rulers or grand families. These weren't always fortified (although some also were) and because of this, some places in Germany (including Schloss Benrath in Düsseldorf or Schloss Nordkirchen) are then translated as "castles" in English, despite being more akin to palaces – or perhaps a Hall.
Burg generally means a fortified castle that a King, Queen, Duke or ruler would have also lived in. Confusingly, you will also find at least one Schloss Burg – more below.
A Festung is a fortress, mostly built with a military purpose – think very, very thick defensive walls. These can be relatively newer structures and very rarely have the beauty of grandeur that you would associate with a Schloss.
Luckily, there are great examples of all three "types" within easy reach of Cologne, so you need not worry too much about the definition and instead enjoy your visit.
---
Castles near Cologne along the Rhine
Brühl Castle
Just a stone's throw from the centre of Cologne you'll find one of the most interesting 'castles' on this list. (I am adament that a better translation would be palace, as it is officially recorded by UNESCO…) While Bonn functioned as the de-facto capital of West Germany during the Cold War period, the pastel yellow Schloss Brühl was used to receive dignitaries and foreign heads of states.
On a one-hour guided tour, you can explore the palace, including the incredible entrance staircase, which is really pretty amazing (shown above). However, it's the grounds that make it for me: make sure to visit on a sunny or dry day and take a leisurely stroll down to Falkenlust, the former hunting lodge.
Pretty much any RB or RE train heading towards Bonn will stop at Brühl – the train station is located conveniently on the palace grounds.
Drachenfels
One of the easiest castles to visit near Cologne is Drachenfels, located just south of Bonn on the right side of the river Rhine.
In actual fact, Drachenfels (meaning 'dragon rock' in German) is the name of the prominent hill on which two different castles sit: the ruins of Burg Drachenfels at the very top and the striking, as well as the grandiose Schloss Drachenburg  (notice the confusing use of multiple German words here…!), which is actually just an elaborate villa built to look like a castle.
The hill is also home to a large viewing platform, which can be reached either by foot or by riding the Drachenfels Railway. The spot is a very popular choice with hikers and tourists alike on sunny summer days.
For Drachenfels, take the RE8 train from Cologne to Königswinter.
Read more: The best day hikes from Cologne on public transport
Ehrenbreitstein Fortress, Koblenz
Looming over the pretty city of Koblenz, Ehrenbreitstein is a great example of a true Festung. Built by the Prussians in the early 19th Century, the fortress occupies a strategic position on the Rhine and was intended to repel future attacks from France.
Today you don't need the backing of the French army to enter, you can travel via cable car across the river from Koblenz. The fortress is now home to a museum and a youth hostel, but in my opinion, the views of Koblenz are its strongest selling point. A combi-ticket with the cable car and entry to the fortress costs €16.90.
The RE5 or RRX from Cologne is the fastest regional train to Koblenz, but there are also Inter-City Express connections.
Stolzenfels Castle
Another castle which is easily visited from Koblenz is Schloss Stolzenfels. It is the closest castle of the Middle Rhein Valley to Koblenz and rises dramatically from the forested hills above the Rhine, looming over the river. The castle's original renovation was an important moment in the so-called Rheinromantik, the Rhine romanticism movement. The castle was more recently renovated a few years ago and is now a dazzling white colour, which helps it to stand out even more.
On our visit a few years ago, we took a bus from central Koblenz to the town below and walked up to the castle. Guided tours were running every hour in German.
Middle Rhine Valley
The section of the Rhine river between Bonn and Bingen is known as the Middle Rhine Valley and is characterised by its many vineyards and castles. The section between Koblenz and Bingen is particularly dramatic, as the river cuts through a narrow gorge, leaving towering cliffs on either side. 
In addition to Stolzenfels, other stand-out castles include Rheinstein Castle, and two castles known as Katz and Maus (literally cat and mouse). The best way to take in this region's castles is either via a Rhine river cruise or as part of a hike. The Rheinsteig follows the right side of the Rhine, while the Rheinburgenweg follows the left side.
---
Castles worth visiting in Bergisches Land
Schloss Burg
The very confusingly-named Burg Castle is found in a village on the Wupper river and is one of the best castles near Cologne to visit. The castle was an important seat for the Berg Duchy, which grew to become an important power in Western Germany (hence the name of the region today, Bergisches Land).
However for British visitors, the castle has a much more important claim to fame: the home of Anne of Cleves, Henry VIII's second wife. But bizarrely, there is literally no mention of her anywhere inside the castle. Burg Castle is one of the few castles on this list that you can enter without a guided tour and freely roman the interiors, which is well worth doing.
If you come to visit Schloss Burg, there are three things you can't miss: a 10km loop along the Wupper river taking in the Müngstener Brücke, Germany's highest railway bridge; a journey on the chairlift from the bottom of the hill to the castle; followed by a very well-earned Bergisches Waffle in the tea rooms in the castle grounds.
From Cologne, take the 260 bus from Messe/Deutz to Wermelskirchen, followed by the 266 bus to Solingen, Burg Schloss.
---
Must-see castles in the Eifel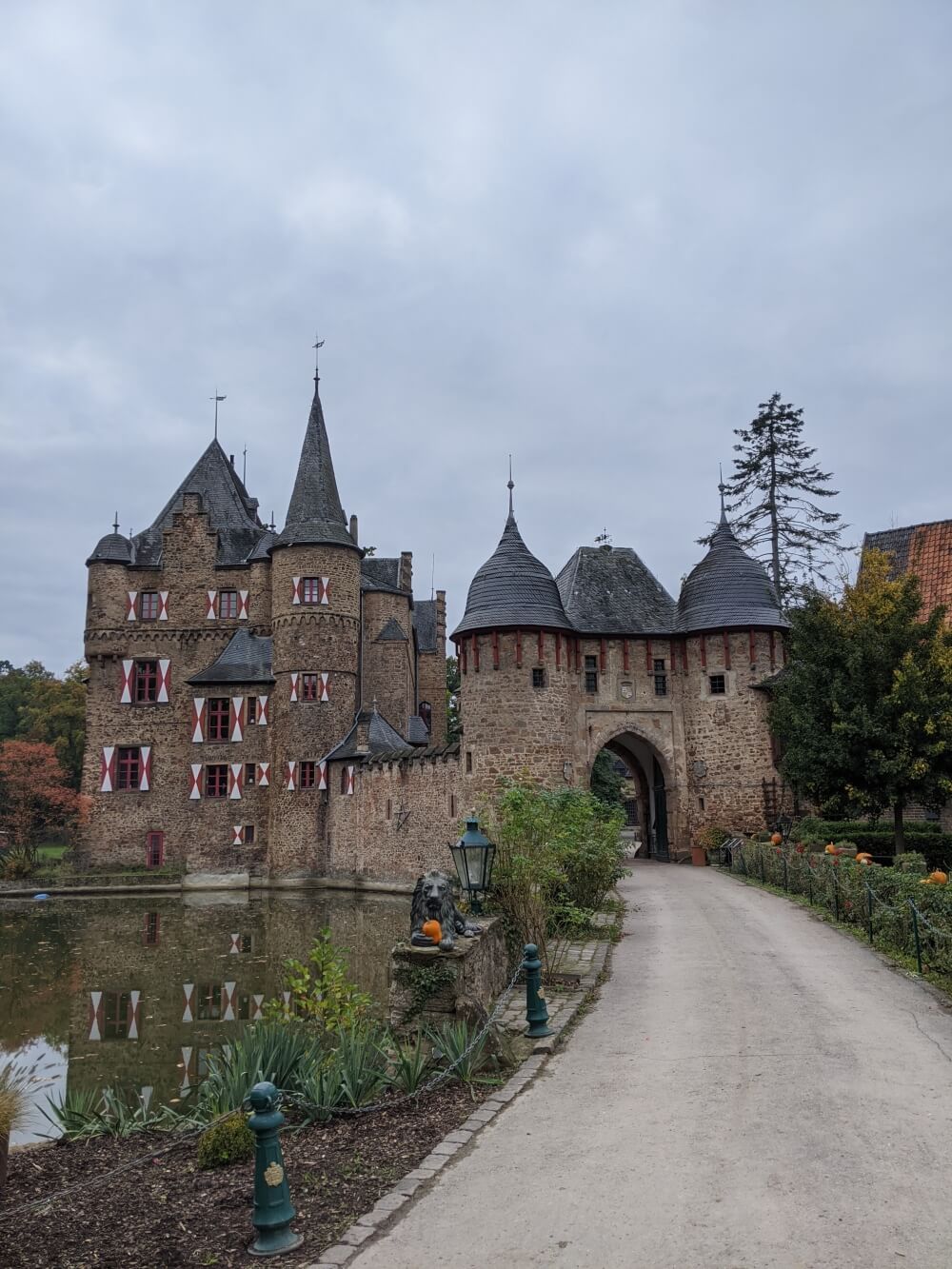 Burg Satzvey
Burg Satzvey is one of Germany's most picturesque Wasserschlösser – or water castles – which is often used to describe palaces built directly on water, seemingly arising from the depths. 
Burg Satzvey is hidden in a small hamlet (you'd honestly have no idea it was there if you were driving past) and today hosts a fair amount of family-friendly events throughout the year (we saw people practising their jousting as we visited). It's probably best visited as part of a hike, which you can easily combine with the nearby Katzensteine rock formations or Hochwildpark Rheinland, a wildlife park.
Public transport connections from Cologne to Satzvey aren't great – best to take the car.
Read more: The best circular hikes from Cologne by car
Bürresheim Castle
I'll be honest: I haven't made it to this castle near Cologne yet, but it's on my list! Bürresheim is recognisable to most people as where Indiana Jones and his Dad (Sean Connery) were held prisoner in Indiana Jones and the Last Crusade. It holds the distinction of being one of only three castles West of the Rhine which have never been destroyed.
---
Castles near Cologne: the Mosel River Valley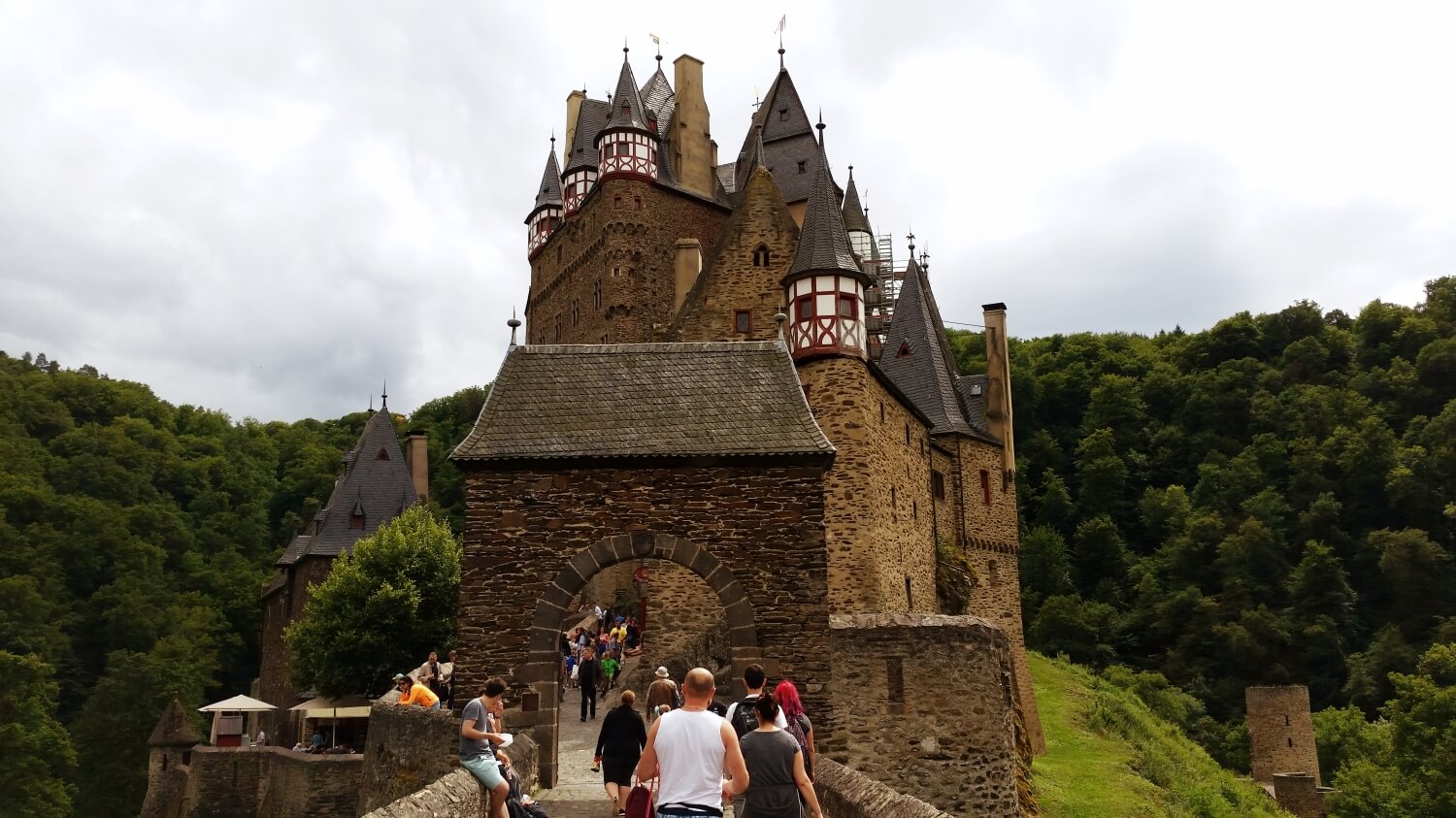 Burg Eltz
Chances are: if you've got Instagram, you've seen countless pictures of this castle. Second only to Bavaria's Neuschwanstein in photogenic-ness (probably not a word), Burg Eltz is one of Germany's most castle-iest castles (definitely not a word).
Burg Eltz is found nestled in the loop of a small stream a few kilometres' walk away from Moselkern in the Mosel valley and yes, the castle is really as dramatic and magical as it looks. Turning the corner, you are suddenly struck by a castle straight from a fairy tale. However, you are also struck by bus-loads of tourists, so be prepared to be patient if you want that perfect Instagram photo.
There are plenty of hikes that incoporate the castle (the Moselsteig from Treis-Karden or the Traumpfad panorama hike are just two of them).
Getting to Moselkern from Cologne means taking the RE5 (RRX) or ICE to Koblenz and then changing to a regional train. The journey time is around two hours 15 minutes.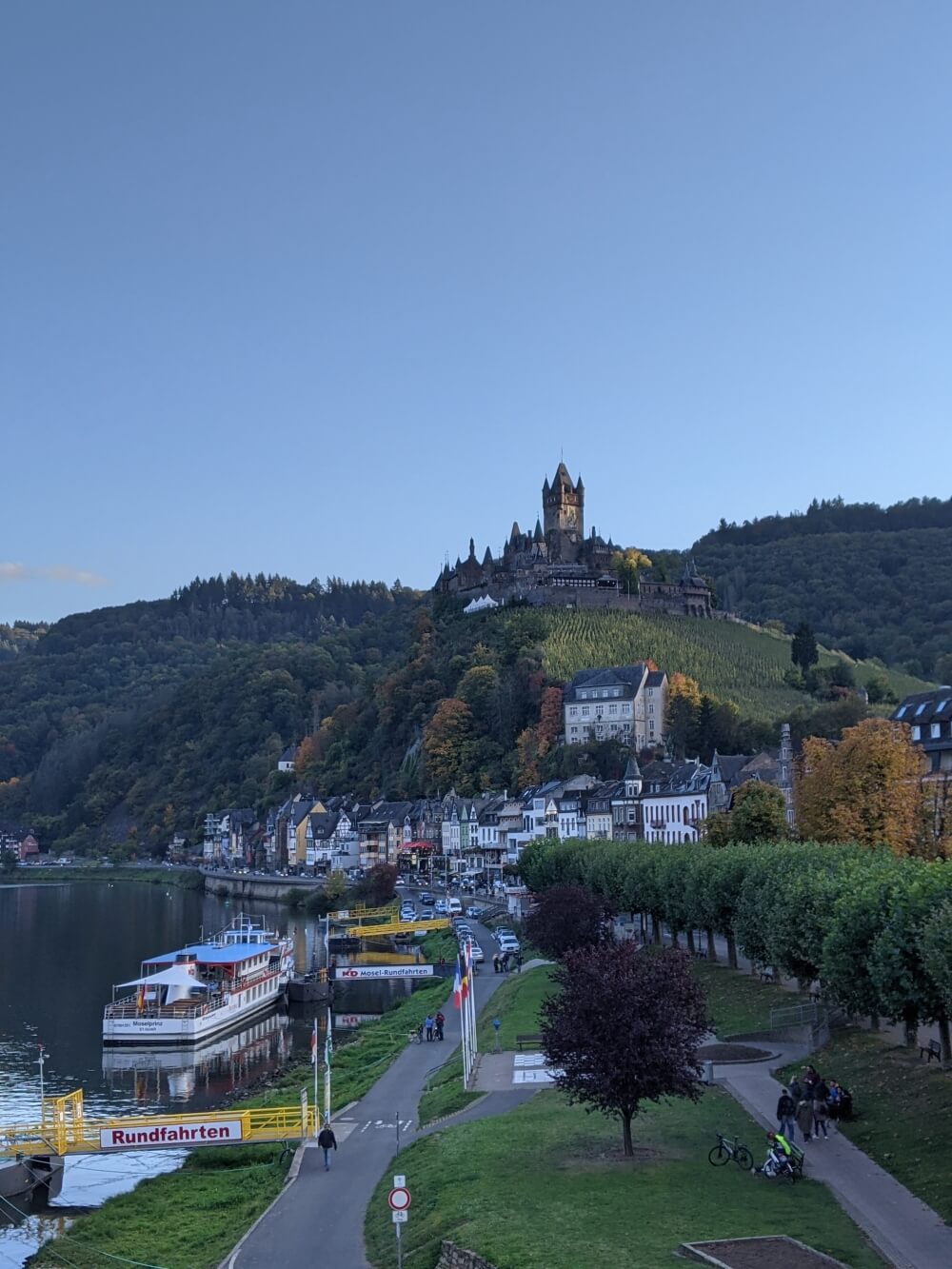 Cochem castle
When it comes to the Mosel Valley, Cochem is the real showstopper. Undeniably beautiful (and incredibly popular with Dutch tourists), Cochem is the valley's real tourist centre and has the bustling atmosphere, great restaurants and – yes, that's right – the castle to prove it.
Reichsburg Cochem, meaning Imperial Castle Cochem, sits proudly above the pretty town of Cochem and is the largest castle in the Mosel valley. Throughout history, the valley found itself strongly contested between Germany and France, which led to the destruction of the castle. It was bought in 1866 and slowly and lovingly restored. It's actually one of the few castles that I've visited as part of a guided tour (but considering this was a school trip in 2007, I remember absolutely nothing of it.)
For great views of the castle and the town, take the Sesselbahn chairlift up to a viewing platform.
Getting to Cochem from Cologne means taking the RE5 (RRX) or ICE to Koblenz and then changing. The journey time is around two hours 15 minutes.
Read more: the best small towns in Germany
Other castles along the Mosel
Much like the Rhine, the Mosel Valley is home to countless castles that can be visited via a hike or taken in on a leisurely river cruise. Personal favourite day trips of mine have been hiking past Burg Thurant as part of Moselsteig Stage 22 or skirting past Castle Metternich above Beilstein on Moselsteig Stage 17.
---
Ruins along the Sieg river
The Siegtal is one of my favourite places in easy reach of Cologne – it is perfect for hiking and it is really well connected with the city via the S12, S19 or RE9. The valley is home to at least two castles ruins well worth visiting on a walk or hike.
The first from Cologne is Burg Blankenberg, which occupies a formidable location atop on outcrop surveying the valley. Today, the ruins are partly occupied by a cute communal garden, although plenty of not-so-cute defensive features still remain, including the city walls which encircle the pretty little old town.
Another set of ruins are those of Schloss Windeck, located just outside of Schladern. Located on a high vantage point above the town, the ruins largely consist of the remains of a defensive turret and a nearly-complete wall. On a clear day, the site has great views of the valley. 
Castle tours: are they worth it?
Despite putting together this blog post on some of the best castles to visit from Cologne, I've actually been inside very few of them. The reason? I find castle tours can be really disappointing, if I'm honest. I'm sure there are some really good ones out there, but I can't think that I have been on one. Frustratingly, entry to a castle is often with a guided tour only, which means the inside I often skip the inside and focus on Instagramming the outside. It's also why I think many of these castles are best visited as part of a hike – to enjoy the landscape and the surrounds of the castle rather than the stuffy interior.
Related
Source link