Frequently asked questions and answers for Budapest baths – please follow our guide / FAQ before visiting a thermal bath in Budapest if it is your first time visit. The thermal baths are one of a kind and Hungary has a unique thermal bath reservoir and culture based on it.
First time visitors in any Baths of Budapest often ask many questions. There are some misconceptions about the baths, e.g. some visitors think that you need to be naked in the baths (no, quite the contrary), that Szechenyi is a Turkish bath (no, it is not), or that most of the pools are separated for men and women (only in Rudas Baths, not in Szechenyi, not in Gellert, not in Lukacs, not in Kiraly!).

CAN I … in the Thermal Baths?
Please read our FAQ, if you visit the Thermal Baths in Budapest for the first time. It will give you a good orientation, and lots of helpful info to make your bath visit more relaxing, avoid multiple queues.
Can couples visit the baths?
Can I go with my husband / wife / partner? The majority of the Baths in Budapest are coed, so the answer is yes, you can, every day. Every Thermal Baths is completely mixed, all facilities, pools. You can even share the same private changing room called cabin (bath tickets with cabin are slightly more expensive).
Rudas Baths is the only exception: there are men only and women only days on weekdays, and aprons are worn by many guests instead of traditional swimwear.
Can children go to the Thermal Baths?
Can I take my kids under 10, or over 14? Will my teenager children enjoy the baths? Can I go to any of the Thermal Baths with my toddler? Kids over 14 are very welcome to enjoy all pools. Children under 14 are not recommended to use the warm thermal pools of 36 degrees Celsius or more.
Gellert Spa is more child friendly during the summer months as there is an outdoor Wave Pool with artificial waves. Temperature 26°C (size: 500 m2, depths: from 0.4 m to 2.75m) – and is open from May to October. But the really child friendly baths for families with kids is neither Gellert nor Szechenyi, but Palatinus on Margaret Island Budapest.
Can I buy tickets in advance?
Yes, you can buy your Szechenyi Bath Ticket  and Gellert Spa Ticket in advance, and avoid the hassle at the cashiers: fats track entry, comfort is just a click away. Pre-booked tickets entitle you to a full day visit, include a either private changing cabin or a locker, and a private entrance at the Help Desk. Please note that online tickets cost an extra approx. 1 Euro, which means not having to stand in a queue / long line, as you will check in via our Help Desk, where our receptionists speak very good English.
Can I book a massage therapy in advance?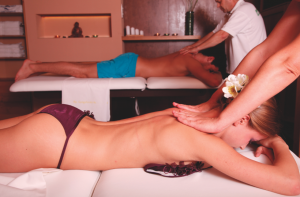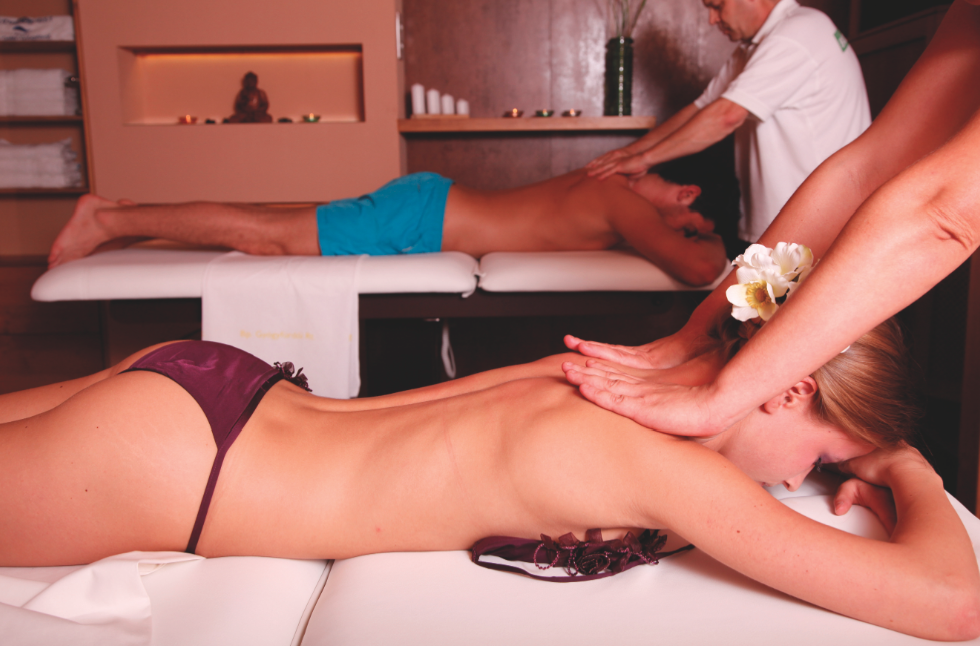 Yes, you can book your Szechenyi Bath- and Gellert Spa massage in advance. What is more, it is best to book a massage in advance as same day massages are hardly available. Booking is via online: please note that we can only offer massage for bath guests, and confirm bookings that have been pre-paid. You can save some Euros if you book massage for 2 (massage treatment for 2 is in the same room). As massage in Szechenyi Bath and Gellert Spa is only for bath guests, each of our massage package contains a Bath Ticket (full day, Mon – Sun), with your own Private Changing Cabin.

Can I rent swimwear in the Thermal Baths?
Yes, you can. See the prices, types of swim wear (follow the link please). Please note that the bath has an internal rental point for swim wear where only cash is accepted, and queues are building up easily at the rental office. You can save time to bring your own swim wear.
Can I wear swimwear in the Thermal Baths?
Can I wear a bikini? Can I wear a Speedo? Can I wear a wet suit? See our guide about the Dress Code of the Thermal Baths of Budapest. In short, yes, you can and you have to. As the bath is mixed, all guests must wear a decent swim wear at all times.
Can I rent a towel in the Thermal Baths?
Yes you can, but we think it is best if you bring your own towel with yourself. Please follow the link for more details. Please note that the towels are best described as bath sheets. While the towel rental deposit is high, the actual rental fee of towels is low, but queues are often building up in the internal towel rental stations, where only cash is accepted. Another last minute solution is to buy a towel. Besides towels, bringing a pair of flipflops can be very convenient.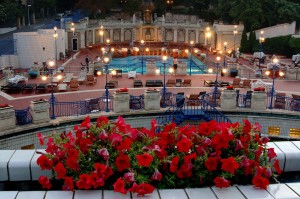 Can I take photos in the Baths of Budapest?
Can I use my camera at the Spa? Can I make video recordings of the baths, the outdoor pools like others on youtube? Yes, you can.
Can I smoke in the Baths? 
No, smoking is not allowed in any of the Thermal Baths of Budapest, as all of them are considered to be a place of healing. Smoking is forbidden in all thermal baths in Budapest.
 Can I leave my bag, valuables somewhere safe in the Baths?
Yes, you can use your locker, your private changing cabin, or use one of the small safety boxes in the Baths. More info about Cabins & Lockers in Budapest Baths.
Can I bring food and drink to the Baths?
You can bring your own food, and you can bring in non-glass beverages too (the bath is maintaining a splinter free zone). But if you get hungry, you can visit the simple cafeteria in the baths to buy some warm foods and cold foods (nothing fancy, plastic plates, affordable prices, canteen style self service).
Can I visit the Baths at Christmas?
Yes, the baths and pools are open at Christmas too. For further information: Christmas Opening Hours of Budapest Baths.
Can I visit the Thermal Baths in winter time?
Sure you can. All the baths, including the outdoor pools are filled with natural hot spring water, which comes from deep wells. Szechenyi Bath is especially popular during the winter holidays (Christmas, New Year's time).
WHERE – Szechenyi Baths?
Where is Szechenyi Spa Baths?
Szechenyi Spa Baths is close to the city centre of Budapest: by M1 metro (underground) you can easily get to the world famous bath complex in 15 minutes from the heart of the city, i.e. from the transit hub square called Deak Square (Deák tér), where all Budapest metro lines meet. Szechenyi Baths is in the City Park, a 5 minute walk from Heroes' Square (you know, the Heroes' Square with the tall monument with an angel on top?  It is often seen on most Budapest postcards and travel brochures: a must see anyway).
Where am I in Szechenyi Baths? It is a Maze

I got lost in the labyrinth of the huge Szechenyi Baths. Where am I? Please print out our internal map of Szechenyi Spa Baths to help you navigate around the maze of pools, saunas, steam rooms, long corridors of cabins and massage rooms, etc. The building is enormous, and it is best to have a little map with you, if you feel uncomfortable in unknown places.
If you buy our online ticket, you will be given your own Szechenyi Bath Map to help you navigate more easily.
Where – Gellert Spa?
Gellert Spa is located on the magnificent Buda side of Budapest, just by the river Danube, at the foot of Gellert Hill and the Liberty Bridge (Szabadsag hid).
Address of Gellert Spa Baths:
Szent Gellért Gyógyfürdő és Uszoda
Kelenhegyi street 4.
Budapest, District XI, H-1118
See the location of Gellert Spa compared to other Budapest attractions in the City Park of Budapest onBudapest Tourist Map.
Where am I in Gellert Spa?
Gellert Spa is huge as it is one of the biggest natural spring water bath complexes in Central Eastern Europe, with several pools, saunas, steam rooms, massage rooms, changing facilities (cabins, lockers), restaurant, and more.
The best way to easily find your way around the thermal bath is to get a free map at the cashier when buying a ticket (or if you are purchasing an online bath ticket for Gellert Spa, our Help Desk colleagues will provide you with your own map).
WHEN – Szechenyi Baths?
When is Szechenyi Baths open? Some units close earlier, while others are open longer. The indoor facilities and pools are open from 6 am to 7 pm every day of the week, and the outdoor facilities and pools are open from 6 am to 10 pm every day. Szechenyi Baths is also open on national holidays and bank holidays, 365 days a year. However, the thermal baths may have shorter opening times on holidays.
When are Szechenyi Night Bath Parties? Mostly on Saturdays. Click on the link to find out more about Szechenyi Parties. The bath parties are from June to September in Szechenyi Bath (Szecska Parties), and from October to May in Lukacs Bath (Magic Bath Parties)
When are there guided tours in Szechenyi Baths? Every day, by day in the peak hours. Szechenyi Bath Tours are very short (approx. 15 minutes) where you can take a look around the pools, the richly decorated lobby, reception hall, etc. See more details about Szechenyi Tours for visitors.
Can I visit Szechenyi Baths at night? The indoor pools, saunas and steam rooms. (in one word the so called Thermal Section) close at 7 pm. So if you want to enjoy the indoor facilities, we recommend timing your arrival at the Szechenyi Baths at 4pm – 5pm to have at least 2-3 hours for getting to the building, queuing for your tickets (you can buy your fast track bath ticket and entrance via our booking form on the left), getting changed, finding the pools you wish to enjoy, getting ready to leave (shower, hair wash, etc.) and checking out of Szechenyi Baths.
In addition, Szechenyi Baths is also a medicinal institute of aqua therapy, healing with its water, and some patients who have been prescribed its waters can enjoy the baths earlier. Hospital patients have separate pools and separate entrance. Please note that some of the spa treatments and aqua therapy, like mud treatment, is only available for hospital patients and not for the general public.When can I go in the morning to Szechenyi Baths? The earliest time to visit Szechenyi Baths is at 6 am. If you are an early riser or you just need to cure your headache after an all night party, you will enjoy Szechenyi Baths. Yep, early risers are absolutely welcome. After all, Szechenyi Baths is in fact 'Szechenyi Thermal Baths and Pool' with a big swimming pool for doing laps too (trainings are typically in the morning).
WHAT – Szechenyi Baths?
What is a Cabin at the Szechenyi Baths? And what is a Locker? Why is a cabin more expensive than a locker? Can I not buy a ticket with a locker (or a cabin)? Cabins are private changing rooms, which are used for getting changed and also storing your belongings. Lockers are storage boxes, the average lockers you would find at a train station, for instance. Lockers are usually man size, so you will have ample room to keep your swim gear, street wear, shoes and a bag /  backpack.
What are the baths and pools like at Szechenyi Spa Baths? See our printable Szechenyi Spa Baths Map here in Fahrenheit or in Celsius with all the important info of the baths, pools, saunas, massage rooms, steam rooms, etc. There are 18 pools of various sizes and temperatures: 1 big swimming pool in the open air, flanked by two outdoor thermal pools, one of which has a fun whirlpool. The 15 indoor pools are bigger and smaller pools with different water characteristics, temperature, underwater jets, shape, etc.
What are the 'sparties' / Szecska spa parties? Read more about the Szecska Saturday night parties here. Saturday night laser show and DJ parties in the baths. Very popular, very unique, only in Budapest!
What is the Dress Code at Szechenyi Baths? The dress code of Szechenyi Bath is very simple: please wear a swimming suit, bikini, speedo, etc. at all times, in all pools, and all bath facilities. Swim wear is obligatory. Flip flops are warmly recommended, as the soles of flipflops, slippers, barefoot guests, who come and go in the pool areas, leave marks on the floors. There are far too many guests in the thermal baths to keep a spotless floor all the time. The bath is huge, and there are hundreds, often thousands of guests inside Szechenyi Bath. It is best to protect your feet with light flip-flops. If you have no flip-flops, you can buy a pair in the main hall in Szechenyi Bath.
HOW – Szechenyi Baths?
How can I get to Szechenyi Spa Baths?
The easiest way to get to Szechenyi Baths (or Szechenyi Furdo in Hungarian) is by taking the historical M1 metro (the 2nd underground in Europe, built right after the one in London!). M1 is the yellow line, which runs right down under Andrassy Avenue from the city centre. There is a metro station right by Szechenyi Spa Baths. The name of the metro station is the Hungarian name of the spa: Szechenyi Furdo (say: 'Say-chain-nee Fur-der').
How do you say Szechenyi Baths in Hungarian?
Széchenyi Fürdő is pronounced Say-chain-nee Fur-der. It is also called Széchenyi Gyógyfürdő (Szechenyi Medical Baths), Say-chain-nee George Fur-der, or even Szecska (setsh-kah) as a term of endearment. Yes, we Hungarians love our Szechenyi Baths.
Source link